Product Description
The 8001iP offers end blocks designed to accept Universal Virtual AC connectors giving the user several options for connecting the bars.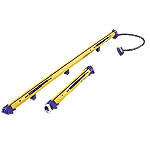 8001iP Static Bar -**DISCONTINUED call for tech help!
The 8001iP static neutralizing bar is made of an extruded rigid PVC and reinforced epoxy resin in the center trough of the bar for extra rigidity.  There is no high voltage cable in the 8001iP neutralizing bar.  Both end blocks are designed to accept Universal Virtual AC high voltage connectors.  One end block has connector pins, while the other has connector sockets covered with socket caps. This design gives the user several options for connecting the neutralizing bar.
CE approved.
Specification:
| | |
| --- | --- |
| Shockless or Hot | Shockless |
| Housing Material | Rigid PVC |
| Emitter Pin Material | Tungsten |
| Emitter Pin Spacing | 1 inch |
| Cable | Quick disconnect extension cables, up to 15-ft |
| High Voltage Connector | Universal Virtual AC Connector (male and female) |
| Approved for hazardous locations | No |
| Maximum overall length | 119 inches |
Design Your 8001iP Static Bar
It's easy to configure and order a Simco 8001iP static bar to fit your requirements. They are available in 2" increments starting with overall lengths from  6.25" up to 122.25".  All 8001iP static bars are shipped with mounting brackets.  High voltage cable and Power Supplies are sold separately.
Simply select the overall length of the static bar you need and determine what cable length is required to reach the power supply mounting location.    Then E-mail us or call C.C. Steven at 805-658-0207 and we'll get on built for you!
You must order a power supply to power the static bar if you do not already have one. We recommend the following models for the 8001iP Static Bar.
| | |
| --- | --- |
| Power Supply | Part Number |
| 8100 Power Module | 91-8100P |
| 8015 Power Supply | 91-8015 |