Product Description
Used with SM Static Bars and R55 Nozzles. Environmentally potted power unit with no replaceable parts.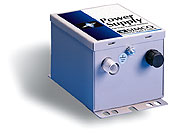 S165 and S265
The S165 (120V) and S265 (230V) are used to power several shockless static eliminators including SM Static Bars, and R55 Ionizing Air Nozzles.  The S265 (230V) is available with Schuko and British line cords.
The S165S (120V) and S265S (230V) feature a lighted power switch.  The units' are compact in size and built to perform in rugged manufacturing environments.
UL, CSA and CE approved.
Specification:
S165
S265
Part Number
IPS2000
IPS2001
On / Off Switch
No
No
Input Requirements
120V, 50/60 Hz
230V, 50/60 Hz
Output Voltage
5 kV, 3mA max
Number of outputs for static eliminators
2
Max Length of static bars which can be attached
200 inches
Does the unit accept shielded cable
Short lengths
Acceptable for hazardous locations
No
Questions? Ready to order?  E-mail us or call C.C. Steven at 805-658-0207.