Product Description
Used with a variety of "shockless" static eliminators, including certain hazardous location applications. NEMA 12 enclosure with access to interior allowing parts replacement.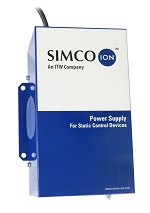 N167, N267, and N257 Power Supplies
The N167 (120V), N267 (230V 60Hz) and N257 (230V 50Hz) are Simco's most versatile power supplies. They can be used with the ES2A4 Ionizing Air Gun and several shockless static bar models (ME100, MEB,MEJ, and PSH-N). A terminal block connector inside the power supply allows for the connection of up to four static eliminators to one power supply. The units accept either shielded or unshielded cable.  All feature lighted power switches.
These units have the added benefit of being FM approved for use in Class I, Division 1 and 2, Group D hazardous areas for electrostatic finishing applications involving spray painting, dipping, coating, and liquid printing. The power supplies must be installed outside of the hazardous area and be used to power an XP-20F Blower(s) located inside the hazardous location. The connecting high voltage cable must be run through rigid or flexible metal conduit sealed at each end.
All three are designed with short circuit protection (no fuse required!) which protects the power supply in the event of a short in the static eliminator or cable.
UL, CSA, CE and FM approved.
Specification:
N167
N267
N257
Part Number
IPN0519
IPN0515
IPN0516
Input Requirements
120V, 60 Hz
230V, 60Hz
230V, 50Hz
Output Voltage
7 kV, 3mA max
Number of outputs for static eliminators
4
Max Length of static bars which can be attached
300 inches
Does the unit accept shielded cable
Yes
Acceptable for hazardous locations
See description
Questions? Ready to order?  E-mail us or call C.C. Steven at 805-658-0207.