Product Description
Used with SS75 Super Service and MESB125 Bars. NEMA 12 enclosure with access to interior allowing parts replacement.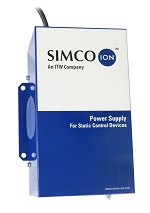 N165, N265, and N255 Power Supplies
The N165 (120V), N265 (230V 60Hz) and N255 (230V 50Hz) can be used with the SS75 Super Service Bar and MESB125 Bar. A terminal block connector inside the power supply allows for the connection of up to four static eliminators to one power supply. The units accept either shielded or unshielded cable.
All three are designed with short circuit protection (no fuse required!) which protects the power supply in the event of a short in the static eliminator or cable.  All feature lighted power switches.
UL, CSA, CE and FM approved.
Specification:
N165
N265
N255
Part Number
IPN0511
IPN0514
IPN0513
Input Requirements
120V, 60 Hz
230V, 60Hz
230V, 50Hz
Output Voltage
5 kV, 3mA max
Number of outputs for static eliminators
4
Max Length of static bars which can be attached
300 inches
Does the unit accept shielded cable
Yes
Acceptable for hazardous locations
See description
Questions? Ready to order?  E-mail us or call C.C. Steven at 805-658-0207.