Product Description
Used with perforMAX IQ Speed Bars providing a low cost entry into the perforMAX IQ product line.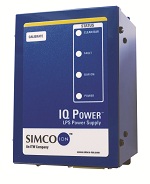 PerforMAX IQ LPS Power Unit
PerforMAX IQ LPS Module
The high voltage power supply module provides microprocessor controlled high voltage DC output to the perforMAX IQ Speed static bar.  The high voltage causes the ionizing pins on the static bar to generate positive and negative ions.  The electric field from the static charge on the material being processed will attract opposite polarity ions from the static bar causing the material to be neutralized.  Patent pending one-push calibration simplifies set-up.
PerforMAX IQ Splitter Box
The Splitter Box offers the opportunity to maximize the potential of the PerforMAX IQ LPS system, providing the capability to operate up to four bars on the same Limited Power Supply.  The addition of the Splitter Box not only enables you to add more bars to the power supply but will also allow you to deal with those difficult applications where cable length or load restrictions are a problem.
PerforMAX IQ LPS
Patent pending one-push calibration simplifies set-up
Indicators on power supply display status of neutralizing system, power, service required and detection of system faults.
Relay contact output "echoes" indicators on power supply for remote sensing and alarm
Specifications:
PerforMAX IQ LPS (Limited Power Supply)
Input Power
24VDC, 1.6A from AC Adapter
Output Voltage
Speed Bar, +/- 7kV
Dimensions
202L x 123W x 106mmH (7.95 x 4.84 x 4.17")
Weight
1.89 kg (4.17 lbs)
Max. Operating Temp.
43C (110F)
Housing
Steel, black epoxy powder coated
HV Connectors
2 proprietary PerforMAX IQ static bar outlets
Design Your PerforMAX LPS Static Neutralizing System
It's easy to configure and order a PerforMAX LPS static bar system to fit your  requirements. Simply select the overall length of the static bar you need (either to match your widest web's width or a convenient width to facilitate mounting), and the length of high voltage cable you need ( 10 feet is standard and included with the bar).  A splitter box can be added should you have needs to connect more than 2 bars to an LPS Power Supply.  A maximum of two splitter can be used for a total of four bars powered by one LPS Supply
Questions? E-mail us  or call CC Steven at 805-658-0207.