Product Description
Used primarily with the HS Nozzle, and shockless static bars (ME100, MEB, MEJ, and PSH-N). Environmentally potted power unit with no replaceable parts.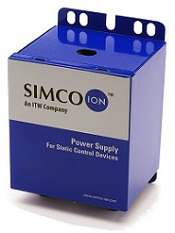 F167 and F267 Power Supplies
The F167 (120V) and F267 (230V) are among Simco's most popular power supplies. They can power a variety of shockless static eliminators, including the AS20 Blower, HS Nozzles (up to 100 nozzles in series), and various shockless static bars (ME100, MEB, MEJ, and PSH-N.
The units' compact size and budget friendly price make them customer favorites.  The Model F167S (120V) and F267S (230V) offer a lighted power switch.
UL, CSA and CE approved.
Specification:
F167
F167S
F267
F267S
Part Number
IPF0300
IPF03S0
IPF0301
IPF03S1
On / Off Switch
No
Yes
No
Yes
Input Requirements
120V, 50/60 Hz
230V, 50/60 Hz
Output Voltage
7 kV, 3mA max
Number of outputs for static eliminators
2
Max Length of static bars which can be attached
200 inches
Does the unit accept shielded cable
No
Acceptable for hazardous locations
No
Check our Demonstrator Page for super deals ( 50% or more off list ) on demonstrator units we may have available.
Questions? Ready to order?  E-mail us or call C.C. Steven at 805-658-0207.