Product Description
Small profile nozzle which delivers a pinpoint stream of ionized compressed air or nitrogen. Current limited design ensures operator safety.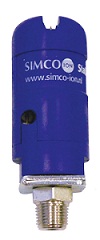 HE Nozzle
HE Nozzles are a current-limited pinpoint ionizing air source, which ensures operator and equipment safety. By limiting current at the nozzle tip, the HE can be used where contact by personnel is likely. HE nozzles can be mounted individually, in series, or on an air header bar. They operate on compressed air or nitrogen and produce a high-velocity stream of ionized air for cleaning and neutralizing. Ideal for preventing double pickup at the feed pile on sheet-fed presses.
FAQ      Applications     Dimensional Drawing(23kB)
| | |
| --- | --- |
| Line Voltage Requirements | 120 V, 60 Hz   230 V, 50 Hz |
| Size (Individual Nozzle) | 2 1/32 inches long by 15/32 inches diameter |
| Maximum Air Pressure (clean, dry air) | 100 psi maximum |
| Air Flow (at 30 psi) | 2.8 SCFM |
| Air Supply Connection | 1/8 inch NPT on nozzle |
| Working Distance from substrate | Up to 6 inches |
| Operating Temperature Limit | 150° F (66° C) |
| Static Charge Discharge Time | 0.5 seconds at 6 inches at 30 psi (5000 V to 500 V) |
You must order a power supply to power the nozzles if you do not already have one. We recommendthe following models for the HE Nozzle.
| | |
| --- | --- |
| Power Supply | Part Number |
| D167Q Power Supply – 120V, 60 Hz, 7 kV, 3mA max, 2 output | IPD0200 |
| D257Q Power Supply – 230V, 50/60 Hz, 7 kV, 3mA max, 2 output | IPD0220 |
Questions? Ready to order?  E-mail us or call C.C. Steven at 805-658-0207.
Design Your HE Nozzle
It's easy to order HE nozzles to fit your requirements. First, decide if you want 10′, 20′, or 30′ cable on the end nozzle (the end nozzle is what you use for single nozzle applications, or it is the last nozzle of a series of nozzles on one cable).
Next, decide how many, if any, "cable-thru" nozzles you want to attach to the end nozzle selected in Step 1 (cable-thru nozzles do not come with a high voltage cable, but easily clip onto the end nozzle's cable, giving you nozzles in a series.)
Finally, decide if you want stopcocks (on/off valves to control airflow) on the individual nozzles.
Then  E-mail us or call C.C. Steven at 805-658-0207 and we'll get them to you!
Check our Demonstrator Page for super deals (50% or more off list) on demonstrator units we may have available.